ISM Risk Assessment Software
The ISM Risk Assessment generator is a comprehensive, intuitive and easy-to-use software tool which enables organisations to produce an information security risk assessment with the minimum of effort.
The software uses a series of simple menus, accessible from the main menu screen shown below.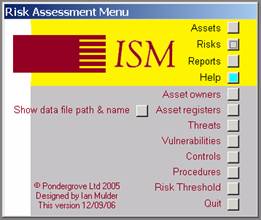 The software is proven, having helped several public and private sector organisations achieve ISO 27001 certification and compliance.
What our clients say:
"The software is user-friendly. I would recommend it to any Information Security Manager."

"Our ISO 27001 assessor thought your software was very good. He said he had never seen anything like it before."

"ISM's risk assessment method, supported by good easy- to-use software, made achieving certification very straightforward"
The software is part of the ISM Risk Assessment toolkit and can be ordered from our services page.